Arctic Gator™ was created and developed by Demandside Energy Solutions' Owner and President Jimmy Bellamy Jr. 

The all new patented A

rctic Gator™ is an affordable hybrid chiller loop designed for facilities with two or more Air-to-Air HVAC systems. 

Arctic Gator™ offers industrial chiller efficiencies in a first-ever central HVAC solution that out-preforms PEAK ZONE units, matching equipment to the real-time load for immediate energy savings and surprising ROI. 




This patented design integrates a unique heat exchanger loop with existing HVAC coils for optimum humidity control, temperature, and Indoor Air Quality (IAQ).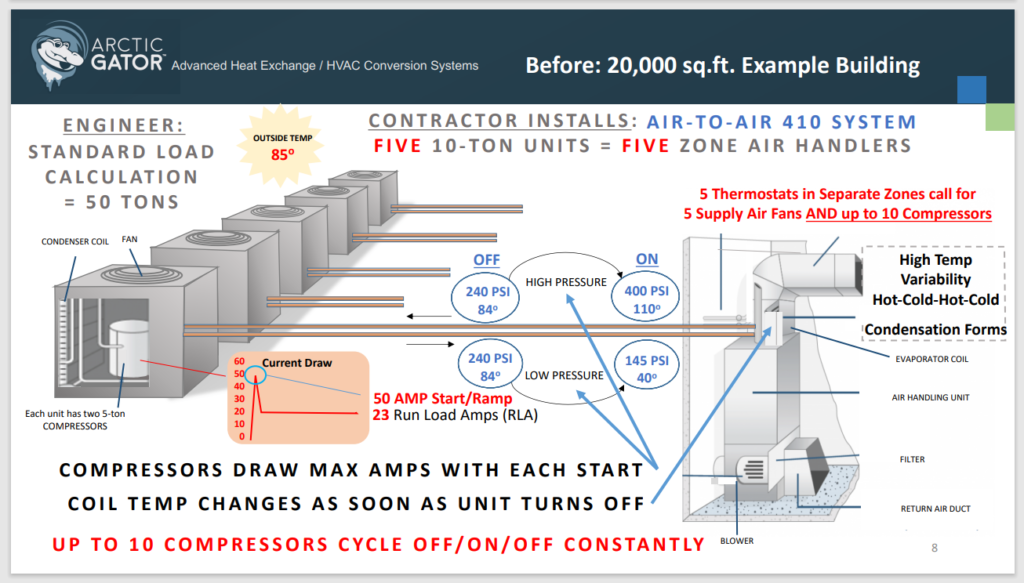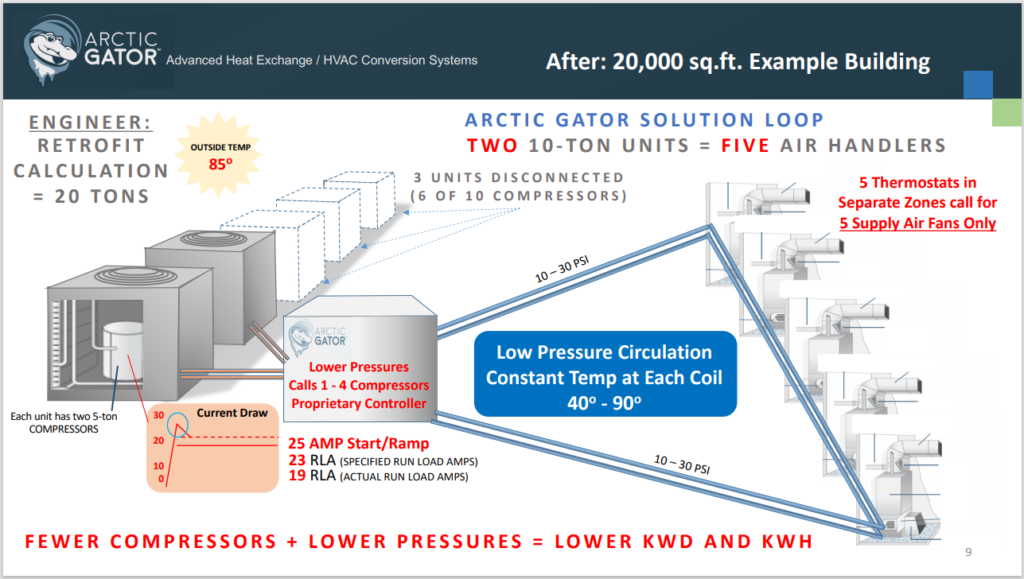 In addition to traditional Air-to-Air systems, Arctic Gator™ can also be utilized in conjunction with existing Chill-Water Systems. 
For example: 

Arctic Gator™ was implemented in a Church in 2012 that used not only Air-to-Air systems, but also had two 45-year old, 15-ton chiller systems in place. Arctic Gator™

 

was able operate in conjunction with both sets of systems and provide optimal results in cooling efficiency and effectiveness.

 

 
Arctic Gator™ Systems are an innovative solution to rising energy consumption issues. At Demandside Energy Solutions we are the only company licensed to utilize 

Arctic Gator™ Systems. We value the honesty and loyalty required to maintain customer relations. This means we guarantee our service to you while taking your benefit into our utmost concern.
Savings with Arctic Gator Systems
Installation of an

 

Arctic Gator™ System allows more room for profits while saving the client money too! 

Disconnecting Air Units saves the carbon footprint that every manufacturer is trying to accomplish while using already available parts. 

 

Peak Demand ends up being 50% fewer Tons and 50% less Amps. 

The costs savings is two-fold for the installer and the client. The installer has less cost with the product cost itself and the install is working with less time on the job (cost per hour). The client will benefit with less cost of the overall job and also with the reduced monthly power bills returning their ROI higher than any other option within the HVAC industry. 

 

Arctic Gator™ allows even more additional savings by having lower maintenance requirement frequencies. With less frequent maintenance visits required, the costs of repetitive maintenance is avoided by the client, saving them money regularly. 
Arctic Gator Supply Chain Remedies
Arctic Gator™ parts are from normal supply chains therefore they aren't subject to the same delays of today's industrial supply chain. This means Demandside Energy Solutions will have no problems getting the parts you need.

Arctic Gator™ also allows the service technicians to utilize parts from previously disconnected units that are still on premises to complete any emergency outage issues reported by our E-gauge live-monitoring. 

These factors together equate to less down time for the clients and gets your tech off the job in record time, to get to more jobs for a better management of their time.  


With the disconnected unit(s) still on the premises a service call becomes predominately a labor hours service call. This saves time and money by reutilizing existing parts and eliminating the need for waiting on parts to be ordered.